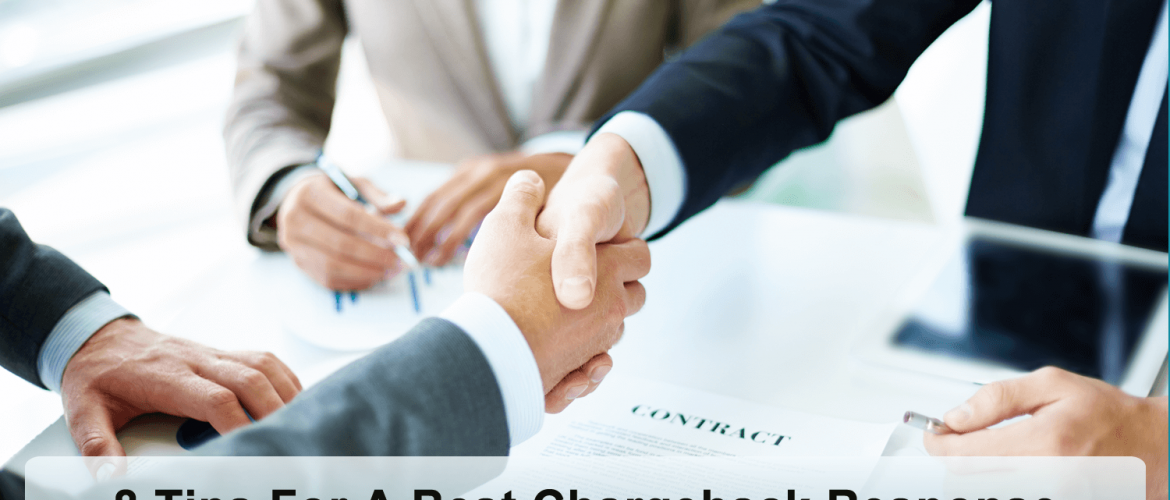 Chargeback responses, also known as chargeback representment, comprises of pieces of evidence collected by the merchant to rebut cardholder's claim. The data compiled by the merchant for representment depends upon the reason for chargeback and can vary depending on the reason code. For example, if the reason for a chargeback is unauthorized use of the card, cardholder identity or stolen card, then the merchant needs to provide transaction receipt signed by the cardholder to prove that the transaction was carried out and the card was charged in the presence of the cardholder.
It is important to store record safely for future use because when a chargeback takes place, card networks usually fight for the cardholders. In case a merchant is not able to provide the proof, he is charged with costly chargeback fee and also loses product as well as its value. Rather than simply accepting chargeback and bear losses, it is better to craft complete chargeback response that can help the merchant in recovering revenue. There are ways to craft successful respond; few of the tips are discussed below.
1.To the Point Response
Financial institutes have to review a large number of merchant chargeback responses every day. They cannot afford to spend time in reading lengthy introductions about the company history and the product sold. When responding to chargebacks, make sure to give to the point and relevant introduction so that your response is conveyed perfectly.
For example: Instead of writing things like 'age of the business, value for customers and so on', the merchant should directly discuss the facts surrounding the particular sale being disputed. Let's take a hypothetical response for better understanding: Mr. Xing purchased (customer's name) the water dispenser (product) from mybusiness.com (company's name) on 23rd March`18 (date of purchase) using MasterCard (credit card used). He has signed the transaction receipt, authorizing the transaction and had agreed to our terms & conditions.
2.Highlight Important Points
The issuer handling the manual review of merchant's response, without spending much time, makes the decision whether or not the evidence provided by the merchant is sufficient to counter the chargeback claim of the customer. Be specific and make it short. Brief and concise data compilation will help the merchant to put forward his point.
3.Relevant Data
While making data brief and concise, the merchant should make sure that all the relevant points are covered. By missing an important point, you move steps away from winning. It is important to understand the difference between incomplete response and briefly compelling evidence.
For example, provide details like e-mail copy, phone record, receipt signed by the customer to validate the cardholder's identity, authorization proof and to prove that the cardholder was aware of the credit charged.
4. Authorization Proof
50% – 60% chargebacks are filed with the chargeback reason code- unauthorized transactions. To prove that the cardholder was aware of the card being used to conduct the transaction is critical. Data required to prove such charges are:
AVS matches
CVV confirmation
Signed transaction receipt
IP matching customer's location/address
5.Delivery Proof
While choosing carrier or Shipping Company to deliver product(s) to your customer, choose the one that requires signed receipt of merchandise. Delivery receipt signed by cardholder or receiver can act as proof of service delivered.
6.Refund Policy
Clearly specified refund policies and terms & conditions matter and can help fight against chargebacks. This can be provided as proof that the cardholder/customer had agreed to T&C and did not follow protocol while filing for a refund.
7.Case Number
One of the simplest things is the case number, which is assigned to every chargeback and should be on every page of merchant response. Case number/ID is a requirement of network and if it is not followed could result in nullification of the whole response.
8.Successful Transmission
After completion of chargeback response, this information is passed to acquiring bank but make sure that the information is clear and dark enough to read as any unreadable data is considered incomplete. This information is passed through various channels such as:
Crafting chargeback response is not an easy task but by following above specified tips a merchant can be well prepared to fight chargebacks and recover revenue.

Email us anytime!
Email customer service 24/7

Call us anytime!
Reach customer care 24/7 at 855-465-4723