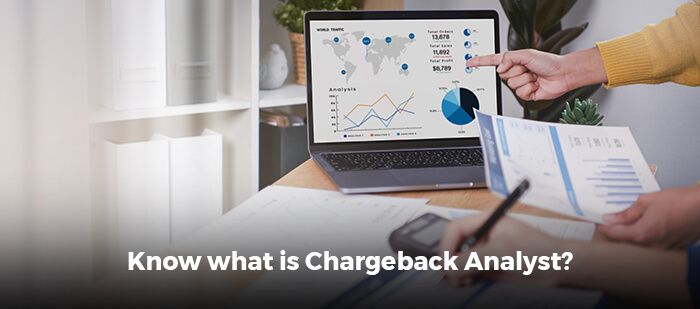 A chargeback analyst is a professional who has expertise in judging, assessing, and supervising a company's chargebacks. This employee is answerable for answering the correct response for each chargeback and in advance to prevent future risk.
Chargebacks have always been a word of danger for the one who sells merchandise online. The chargeback analyst here plays an important role in this whole process.
In this entire blog, we'll look at chargeback analyst functions, reservations, and when it makes sense for your business to get a chargeback analyst.
What are a chargeback analyst's responsibilities?
Know the qualifications for a chargeback analyst?
Does your company need a chargeback analyst?
Chargeback Analyst Responsibilities
Let's look at a few particular examples of the chargeback analyst responsibilities that assist businesses to prevent and fight chargebacks.
Investigate & Resolve Disputes
Not all customer complaints convert into chargebacks. Sometimes, an issue can be solved in another technique. For instance, Order Insight and prevention alerts provide alternate dispute resolution tactics.
A chargeback analyst here will help in taking a decision if these tools would be applicable for your business. If so, the analyst would control the workflows, keep an eye on effectiveness, and go for the necessary process changes.
Prepare Proof & Fight Chargebacks
Transaction disputes generally take birth from fraud if it's "friendly" fraud or actual ill-natured fraud.
Friendly fraud happens when the cardholder utilizes the chargeback process in an improper manner, either purposely or it's just a misunderstanding. On the other hand, ill-natured (malicious) fraud occurs when a cardholder's payment card is used without the cardholder's knowledge.
According to recent research majority of the chargeback, the result comes from friendly fraud, which is a challenging chapter.
Once the chargeback's absolute origination is known, the chargeback analyst takes a decision if the company should fight for the chargeback or not.
If the case were fought, the chargeback analyst would be liable for checking the chargeback reason code and gathering supporting documents that disqualify the validity of the chargeback claim. This information is then assembled and capitulated as part of the chargeback response.
Monitor & Evaluate Chargeback Activity
 A high chargeback-to-transaction ratio costs a huge amount of your business money, but the reality is you no longer have the ability to process payment card transactions. Hence, chargeback prevention is commonly the first thing for various chargeback analysts.
Chargeback analysts notice chargeback activity to acknowledge trends and patterns that could increase the risk, In terms of giving issues or low product quality.
From that point, chargeback analysts match with your chargeback management team and other departments. Through the alliance, team members can execute changes and solutions customized to prevent chargebacks.
Maintain Compliance with Card Brand Regulations
Card brand rules and regulations change over time. When they do, your business must ensure it's compliant with any new or altered requirements.
Chargeback analyst responsibilities include remaining up-to-date on these changes and developments. They may also make recommendations and suggestions to your team to ensure continued compliance with new regulations.
Provide Training and Guidance
Because chargeback analysts specialize in their role, they also serve as the top source for chargeback-related training, development, and guidance. Chargeback analyst responsibilities may include helping to update customer policies or training other team members to more effectively mitigate chargeback risk.
For example, a chargeback analyst may notice a high rate of chargebacks related to a service you sell to customers regularly. During the investigation, the chargeback analyst may determine the cancellation policy is overly confusing. To reduce the related chargeback rate, the chargeback analyst may recommend simplifying the cancellation policy or sending customers reminders before each new billing cycle, driving down the chargeback ratio and saving your business money.
Email us anytime!
Email customer service 24/7
Call us anytime!
Reach customer care 24/7 at +1 (888) 901-8653
Chargeback Analyst Qualifications
Chargeback analyst qualifications aren't set in stone and vary from business to business. Your expectations of a chargeback analyst may differ from that of other businesses in your industry.
For example, the qualifications of an analyst intended to fill a primarily compliance-related role may be more or less demanding than an analyst with less in-depth responsibilities.
Typically, chargeback analyst qualifications include:
The ability to communicate professionally with internal teams, partners, and vendors — both verbally and in writing
Strong analytical, problem-solving, and listening skills
The ability to multi-task
Knowledge of card brand rules and regulations
Proficiency with office software, such as Microsoft Word and Excel
Familiarity with chargeback management software, such as Chargebackexpertz
High school education or equivalent
A bachelor's degree in accounting, business, or finance may be preferred or required
One or more years of experience with chargeback processing may be preferred or required
Chargeback analysts sometimes serve dual functions in smaller businesses.
For example, you may require chargeback analysts to be more customer service-oriented. The resulting chargeback analyst job description would highlight the need for customer service experience and skills.
In other cases, chargeback analysts may also fulfill aspects of an accounts receivable role. As a result, you would likely highlight qualifications surrounding payment processing, auditing, and bank reconciliations.
Do You Need a Chargeback Analyst?
All merchants trade with chargebacks. Few merchants — especially small businesses — may be able to get away with allotting chargeback management to an employee with various responsibilities. Additional merchants, such as enterprises, may require a devoted chargeback analyst — or even a group of chargeback analysts concentrating on different roles.
The transaction volume and the number of disputed transactions speak, which sort of chargeback analyst your business is suitable for. Still, chargeback analysts work in advance to lessen the chargeback risk and lower the prospect of getting a transaction dispute, so all businesses benefit from some chargeback analyst role.
Using chargeback management software like Chargeback Expertz entitles your team with tools made to analyze, fight, and prevent chargebacks for your company.
So after your market, advertise or get a dedicated chargeback analyst team. Chargeback Expertz becomes an important part of your collection. Intelligent chargeback technology safeguards you're Rate of investment, deducting time invested in fighting chargebacks by 85% and pricing you 45% less than most in-house processes.
Some Related Blogs
Know More About Chargebacks And Credit Card Chargebacks
Benefits of Good Chargeback Analytics 
Monitor Chargebacks with Chargeback Experts!
Chargebacks can have a remarkable effect on your business and the bottom line. Whether you get a single chargeback analyst or a team of chargeback analyst responsibilities on your entire team, Chargeback Expertz can help by:
Gathering all chargeback data into a single portal
Creating machine-generated and efficient workflows
Putting forward the intelligent dispute responses in just a single click
Assembling detailed reports, which include profits and losses within.
Observing team members' perfection and efficiency,
Sign up for a demo of Chargeback Expertz right now to permit your team with the tools you need to manage chargebacks and shrink risk.