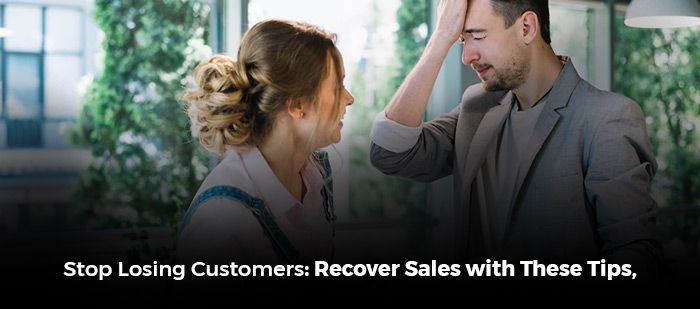 Are you looking for ways to recover sales and increase conversions? You're not alone. Many businesses struggle to keep customers coming back and make more sales. Fortunately, there are several techniques you can use to help recover sales and boost conversions. In this blog post, we'll share our top tips on how to Stop Losing Customers and Recover Sales with simple and effective strategies. 
Enhancing E-commerce Success Through Excellent Customer Service
In the competitive e-commerce landscape, providing excellent customer service can be a key differentiator that helps you recover lost sales and increase conversions. Customers who feel valued and listened to are more likely to make repeat purchases and recommend your brand to others. Here are a few tips for providing better customer service:
Respond promptly: Ensure that customer queries, complaints, and feedback are addressed promptly and courteously. Consider setting up an automated response system or using chatbots to handle common inquiries, but be sure to offer a human touch when needed. 
Personalize the experience: Make customers feel valued by addressing them by name, offering personalized recommendations based on their previous purchases or browsing history, and sending personalized thank-you messages after each purchase.
Be proactive: Don't wait for customers to reach out to you with their concerns. Proactively follow up with them after purchase to ensure their satisfaction, offer helpful tips and recommendations, and provide them with information about upcoming promotions and offers.
Train your staff: Make sure your customer service staff is well-trained in handling inquiries and complaints, is knowledgeable about your products, and can handle difficult situations calmly and professionally.
By providing better customer service, you can build trust and loyalty among your customers, recover lost sales, and drive long-term growth for your e-commerce business.
Some Related Blogs
Offer Incentives 
Another effective way to recover sales is by offering incentives to potential customers. There are many different types of incentives that can be offered, such as discounts, free gifts, or a referral program.
Discounts are a popular choice, as everyone loves to save money. You could offer a percentage off the total purchase price or a flat rate discount. Consider offering these discounts for a limited time only to create a sense of urgency and encourage customers to act fast. 
Free gifts can also be a great incentive to recover sales. Depending on your industry, this could be a sample of a new product, a free eBook, or a complimentary consultation. Make sure that the gift is relevant to your audience and will entice them to come back and make a purchase.
A referral program is another effective incentive that can help you recover lost sales. Encourage your customers to refer their friends and family to your business by offering them a discount or free gift in return. This will not only help to recover lost sales but can also help to increase your customer base.
Overall, offering incentives is a great way to recover sales and build a loyal customer base. Make sure that your incentives are relevant to your audience and provide them with a clear call to action.
Make the Checkout Process Easier 
The checkout process is one of the most important parts of your e-commerce site. It's the final step before a customer completes their purchase, and it's also where many potential sales are lost. So, it's crucial to make sure the checkout process is as easy and straightforward as possible. Here are a few tips to make the checkout process easier and recover those lost sales: 
Minimize Steps: Reduce the number of steps in your checkout process. Ideally, customers should be able to complete their purchases in just a few clicks.
Clear Navigation: Make sure your checkout process is easy to navigate and understand. Use clear, concise language and visual cues to guide customers through the process.
Guest Checkout: Offer a guest checkout option so that customers can make a purchase without having to create an account.
Autofill: Use autofill to speed up the checkout process for customers. Autofill will remember their details and populate them automatically, saving them time and effort.
Security: Ensure that your checkout process is secure. Customers want to feel safe and confident when making a purchase online, so use SSL encryption and display security badges on your site. 
By making the checkout process easier, you can improve your conversion rates and recover lost sales. Customers are more likely to complete a purchase if they find the process easy and straightforward. So, take a look at your checkout process today and see how you can make it easier for your customers.
Improve Your Website's User Experience
A key factor that can often make or break your chances of securing a sale is the user experience of your website. Consumers today are more likely to abandon a purchase if the website they are browsing is difficult to navigate, or the information they are looking for is not easily accessible.
To improve your website's user experience, you can start by simplifying your design and layout. A cluttered website with too many distractions can overwhelm visitors and make it difficult for them to find what they are looking for. Instead, opt for a minimalist design that puts the focus on your products and the value they offer. 

Email us anytime!
Email customer service 24/7

Call us anytime!
Reach customer care 24/7 at +1 (888) 901-8653
Additionally, make sure your website is optimized for mobile devices. More and more people are using their smartphones and tablets to browse the internet, so if your website isn't mobile-friendly, you may be missing out on a large segment of potential customers.
You can also make use of features like live chat or chatbots to provide a more personalized experience for your visitors. This way, they can ask questions or voice their concerns and receive immediate assistance without having to navigate through a maze of information.
Finally, pay attention to the speed of your website. Slow-loading pages can frustrate visitors and cause them to lose interest in your products. Use tools like Google PageSpeed Insights to analyze your website's loading times and make any necessary improvements.
Improving your website's user experience can not only help you recover lost sales. But also increase your conversions and overall revenue. By putting the needs and preferences of your customers first. You can create a website that is both easy to use and effective at driving sales.