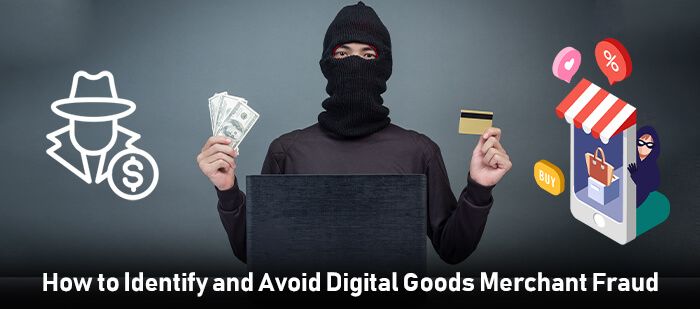 Digital Goods Merchant Fraud is a growing issue that affects online businesses. As consumers become more reliant on the Internet to purchase digital goods and services. There is an increased risk of fraud. It's important to understand the signs of fraudulent activity in order to protect yourself and your business. In this blog post. We will discuss how to identify and avoid Digital Goods Merchant Fraud. 
Check the reviews
Before making a purchase from a digital goods merchant. It's important to do your research. One of the easiest ways to identify potential fraud is to check reviews from other customers who have purchased from the same merchant.
Check online marketplaces like Amazon, eBay, and Etsy for reviews of the merchant or the specific product you're interested in. Look for patterns of negative reviews. Such as products not being as described, or merchants not fulfilling orders.
You can also check consumer protection websites like the Better Business Bureau (BBB) and the Federal Trade Commission (FTC) for complaints against the merchant.
While positive reviews are always a good sign. It's important to remember that they can be fake or manipulated. Look for detailed and honest reviews, and consider reaching out to the reviewer if you have any questions or concerns.
By taking the time to check reviews before making a purchase, you can save yourself from potential digital goods merchant fraud and ensure a positive buying experience.
Some Related Blogs 
●     eBay Chargeback Protection Explained : Know Your Rights
●     Unlocking the Benefits of Subscription Billing for Your Customers
●     How to Strengthen Your Chargeback Defense Plan as a Merchant
●     New Return Fraud Tactic Leaves Merchants Out of Pocket
Compare prices
Another important step in identifying and avoiding digital goods merchant fraud is to compare prices. If a price seems too good to be true, it probably is. Scammers will often lure unsuspecting victims with very low prices on digital goods. They are typically sold for much higher prices.
However, it's also important to remember that not all low prices are a sign of fraud. Sometimes, legitimate merchants will offer discounts and promotions on digital goods to attract customers. That's why it's important to compare prices across different websites before making a purchase.
By comparing prices, you'll get a sense of what the market rate is for the digital goods you're interested in buying. If a particular website is offering prices that are significantly lower than its competitors. It's a good idea to investigate further. Read reviews of the merchant. Check their website for a physical address and contact information. And verify that they are a legitimate business before making a purchase.
In addition to helping you avoid scams, comparing prices can also help you save money on digital goods. By taking the time to shop around, you may be able to find a legitimate merchant who offers the same digital goods at a lower price. So, always take a few extra minutes to compare prices before making a purchase online. 
Use a credit card 
Another way to protect yourself from digital goods merchant fraud is by using a credit card to make purchases. Credit cards offer protection to consumers by allowing them to dispute charges. If the goods or services purchased were not advertised. Not delivered, or were never received. 
Additionally, most credit card companies offer fraud protection. Meaning that you will not be held liable for any unauthorized charges on your account. Make sure to read your credit card company's policies on fraud protection and make note of any time limits or requirements for disputing charges.
When using a credit card to make online purchases. Be sure to only enter your credit card information on secure websites. Look for the padlock symbol in the website address bar and the "https" at the beginning of the URL to ensure the website is secure.
Finally, remember to keep a close eye on your credit card statements to make sure there are no unauthorized charges. Report any suspicious activity to your credit card company immediately. By using a credit card to make online purchases, you can help protect yourself from digital goods merchant fraud.
Don't click on links in the email
One common way that fraudsters trick consumers is through email scams. They may send an email with a link to a website that looks legitimate. But is actually a fake site designed to steal personal information. It's important to always be cautious and never click on links in emails unless you are certain it is from a legitimate source.
Instead, take the time to type in the website URL manually. Or use a trusted search engine to find the website you need. Additionally, look for other clues in the email that may indicate it is a scam. Poor grammar or spelling. An urgent call to action. And unsolicited emails are all signs that the email may be fraudulent.
By being vigilant and cautious when it comes to clicking on links in emails. You can protect yourself from falling victim to digital goods merchant fraud.
Keep your software up to date 
One of the most common ways digital goods merchant fraudsters gain access to your personal information is through software vulnerabilities. Outdated software can leave your computer open to attack. Which can compromise sensitive data such as your credit card information or your personal identity. 
To avoid falling victim to this kind of fraud, make sure to regularly update your software. This includes operating systems, antivirus software, web browsers, and any other programs you use to access digital goods. Keeping your software up to date ensures that any security flaws are patched. Making it harder for fraudsters to exploit your computer.
You can also turn on automatic updates to ensure that you are always protected. Even when you forget to manually update your software. Remember that even the best antivirus software is only effective if it is kept up to date. Don't wait until it's too late to update your software – make sure you are protected today. 
Use a secure connection 
One of the easiest ways for fraudsters to intercept your sensitive information is by monitoring unsecured internet connections. This is why it's essential to always use a secure connection when making digital purchases.
When browsing for digital goods online. Ensure that the website you're buying from is encrypted with SSL (Secure Sockets Layer) encryption. Websites with SSL encryption have "https" in their URL instead of "HTTP." This is a crucial feature that protects your data and ensures it remains confidential between you and the seller.

Email us anytime!
Email customer service 24/7

Call us anytime!
Reach customer care 24/7 at +1 (888) 901-8653
Using public Wi-Fi to shop online can be a major security risk. Public Wi-Fi is a prime target for hackers to exploit as it is usually unsecured. This means that anyone on the same network can potentially see what you're doing online. Therefore, it's advisable to use a private, secured Wi-Fi network to make online purchases.
Overall, ensure that you always prioritize online security by using a secure internet connection when making digital purchases. A little precaution can go a long way in safeguarding your personal information and preventing digital goods merchant fraud.
Use strong passwords
It's common advice to use strong passwords whenever we access any digital account or make a transaction online. However, when it comes to digital goods merchant fraud, it's even more important to follow this advice. Strong passwords can help protect your account from being hacked, and therefore reduce the risk of fraudulent transactions.
So what makes a strong password? It should be at least eight characters long and contain a mix of upper and lowercase letters, numbers, and special characters. Avoid using easily guessable passwords like your date of birth, your name, or anything that is personal and easily accessible.
Another way to strengthen your passwords is by using a password manager. This software can generate random passwords and store them securely. Making it easier for you to use strong passwords without the hassle of remembering them all.
Lastly, never use the same password across different accounts. If one account is compromised, it increases the chances of your other accounts being hacked as well. It's important to create unique passwords for every account and change them regularly.
Overall, using strong passwords is one of the easiest and most effective ways to protect yourself from digital goods merchant fraud. Take the time to create strong passwords. And use a password manager. And change your passwords regularly to stay one step ahead of fraudsters.