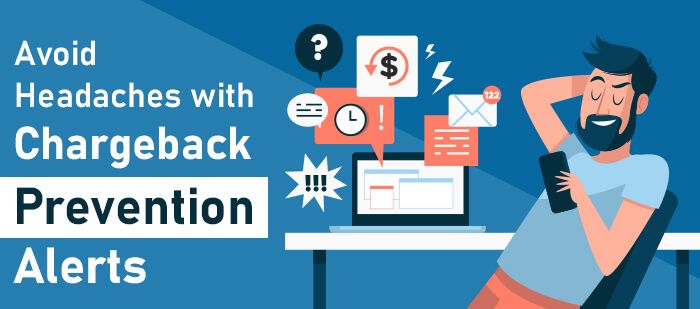 Are you tired of dealing with the headaches of chargeback fraud? If so, Chargeback Prevention Alerts may be a solution for you. Chargeback Prevention Alerts are a form of fraud detection that can help merchants prevent costly chargebacks before they occur. But, is it really worth it?. In this blog post, we'll explore the pros and cons of Chargeback Prevention Alerts so that you can decide if they're the right fit for your business.
What Are Chargebacks?
If you're a business owner, you might have heard of the term "chargeback." A chargeback occurs when a customer disputes a charge on their credit card statement. This can happen for a variety of reasons, such as fraudulent activity, merchandise not received, or a customer's dissatisfaction with the product or service.
Chargebacks can be incredibly frustrating for business owners, as they not only result in lost revenue, but can also negatively impact your merchant account and your reputation with your payment processor. In fact, too many chargebacks can lead to your account being shut down altogether.
So, how do you prevent chargebacks? One solution is implementing chargeback prevention alerts. These alerts notify you when a customer disputes a charge, giving you the opportunity to quickly address the issue and potentially avoid a chargeback altogether.
But are chargeback prevention alerts worth it? Let's explore the pros and cons.
Some Related Blogs
The Pros of Chargeback Prevention Alerts
When it comes to protecting your business from chargebacks, prevention is key. That's where chargeback prevention alerts come in – they offer an additional layer of protection by notifying you when a potentially fraudulent chargeback is being initiated. Here are some of the pros of using chargeback prevention alerts:
Early Warning System: Chargeback prevention alerts provide an early warning system, allowing you to take action before the chargeback is even processed. This can give you time to gather evidence and prevent the chargeback from occurring in the first place.
Improved Efficiency: Chargeback prevention alerts streamline the chargeback dispute process by providing real-time notifications of potential issues. This helps you to resolve disputes more quickly, reducing the amount of time and resources needed to address each dispute.
Enhanced Customer Experience: When a chargeback is prevented, it benefits not only your business but also your customers. Chargebacks can lead to confusion and frustration, but by using prevention alerts, you can resolve issues before they escalate into chargebacks and keep your customers happy.
Cost Savings: Chargebacks are not only time-consuming, but they can also be expensive. Using chargeback prevention alerts can help you avoid chargeback fees, which can range from $20 to $100 per transaction. Additionally, reducing chargebacks can also improve your overall profitability.
Overall, chargeback prevention alerts offer significant benefits to businesses looking to protect themselves from chargebacks and improve efficiency. However, there are also some potential drawbacks to consider before implementing these alerts.
The Cons of Chargeback Prevention Alerts
While chargeback prevention alerts have many benefits, there are also some potential drawbacks to consider. Here are some of the cons of implementing chargeback prevention alerts:
False positives: One of the biggest risks with chargeback prevention alerts is the possibility of false positives. In other words, an alert might be triggered even if there is no actual fraud or chargeback. This can result in unnecessary freezes on legitimate transactions and could cause inconvenience for both the customer and the business.
Increased costs: Chargeback prevention alerts can also be expensive to implement and maintain. Depending on the type of alert system used, businesses may need to pay for additional software, monitoring services, or third-party support.
Complex setup: Setting up a chargeback prevention alert system can be a complex process that requires expertise in both fraud prevention and the payment processing industry. Businesses may need to hire specialized staff or work with external consultants to get the system up and running effectively.
Potential customer dissatisfaction: Some customers may view chargeback prevention alerts as an invasive or annoying feature. Alerts may be seen as a sign that the business does not trust the customer or is overly concerned with fraud prevention.
Limited effectiveness: Finally, it is important to note that no chargeback prevention system is foolproof. Even with alerts in place, some fraudulent transactions may still slip through the cracks. Businesses should be aware of the limitations of these systems and continue to monitor their transactions for signs of fraud.
In summary, while chargeback prevention alerts can be a valuable tool for businesses looking to prevent fraud and chargebacks, they are not without their potential drawbacks. Before implementing an alert system, businesses should carefully consider these factors and weigh the pros and cons to determine if the benefits outweigh the costs.
Considerations Before Implementing Chargeback Prevention Alerts
While chargeback prevention alerts can be a valuable tool in reducing the risk of chargebacks and the associated costs and headaches, there are some factors to consider before implementing them.
First and foremost, the cost of these alerts should be taken into account. Some providers offer them for free, while others charge a monthly fee. It's important to weigh this cost against the potential cost savings from avoiding chargebacks.
Another consideration is the impact on the customer experience. Depending on the frequency and severity of the alerts, they may come across as overly intrusive or frustrating for customers. It's important to strike a balance between fraud prevention and maintaining positive customer relationships.

Email us anytime!
Email customer service 24/7

Call us anytime!
Reach customer care 24/7 at +1 (888) 901-8653
In addition, it's important to evaluate the accuracy of the alerts. False positives can be just as frustrating for merchants as chargebacks themselves, so it's important to choose a provider with a proven track record of accurately detecting fraud.
Finally, it's worth considering whether chargeback prevention alerts are the best solution for your particular business. Depending on your industry and transaction volume, other fraud prevention measures may be more effective and cost-efficient.
In summary, chargeback prevention alerts can be an effective tool in reducing the risk of chargebacks. But should be carefully evaluated against the costs. Impact on the customer experience, accuracy, and suitability for your particular business. By doing so, merchants can make an informed decision about whether to implement these alerts and how to do so effectively.