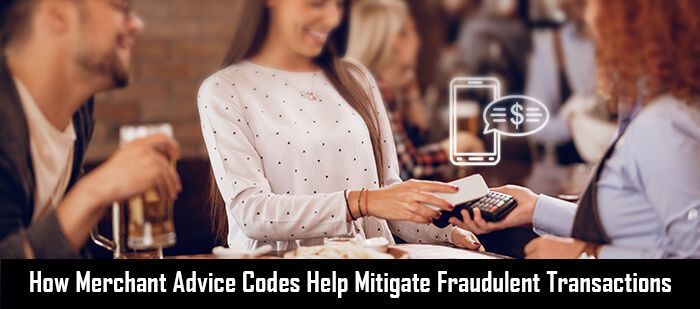 Merchant Advice Codes (MACs) are an important tool for merchants to use in order to help protect their businesses from fraudulent transactions. MACs provide a unique code that is associated with a specific transaction. Allowing merchants to detect any suspicious activity that may be associated with it. This blog post will discuss how MACs help to mitigate fraudulent transactions.  As well as the benefits they offer for merchants.
Understanding Merchant Advice Codes
As an online merchant, it's important to have an understanding of what Merchant Advice Codes (MACs) are and how they can help protect your business from fraudulent transactions. MACs are unique identifiers that are assigned to merchants by their acquiring bank. These codes are used to help identify the type of transaction being processed, the location of the transaction, and other relevant information that can help detect and prevent fraudulent activities.
By using MACs, merchants can quickly and easily identify potentially fraudulent transactions before they are completed. This can help reduce chargeback rates and protect against financial losses. Additionally, MACs can help merchants comply with various industry regulations, including the Payment Card Industry Data Security Standards (PCI DSS).
Overall, understanding Merchant Advice Codes and their importance in mitigating fraudulent transactions is essential for any merchant operating in today's digital marketplace. By implementing MACs into your payment processing system, you can help ensure the security and stability of your business.
Some Related Blogs
Benefits of Using Merchant Advice Codes
Implementing Merchant Advice Codes (MAC) is one of the most effective ways to combat fraudulent transactions in businesses. The use of these codes helps to improve the security of transactions and prevent unauthorized access to sensitive customer data. Here are some of the benefits of using Merchant Advice Codes in your business:
Fraud prevention: The most significant benefit of using MACs is the prevention of fraudulent transactions. By implementing Merchant Advice Codes, merchants can reduce the risk of payment fraud, identity theft, and chargebacks.
Improved security: Merchant Advice Codes are a vital component in the security of a payment system. They help to ensure that transactions are processed only by authorized users. This added layer of security helps protect sensitive customer information from potential theft.
Compliance: Merchant Advice Codes are necessary for complying with regulatory requirements. Such as the Payment Card Industry Data Security Standard (PCI DSS). Using MACs helps to demonstrate compliance with these regulations, reducing the risk of penalties or legal issues.
Customer confidence: By using Merchant Advice Codes, merchants can enhance their reputation for providing secure payment processing services. Customers are more likely to feel confident and secure in using a merchant that implements such codes. increasing loyalty and repeat business.
In summary, the benefits of using Merchant Advice Codes are numerous, including increased fraud prevention, improved security, compliance with regulations, and increased customer confidence. Implementing these codes is a smart move for any business that wants to ensure secure payment processing and protect sensitive customer information.
How Merchant Advice Codes Work
Merchant Advice Codes (MACs) are essential tools for merchants to help prevent fraudulent transactions. But how exactly do they work?
In simplest terms, a MAC is a code that is assigned to each credit card transaction made through a merchant. The code serves as a message that is sent from the merchant's payment processor to the issuing bank.  Providing additional information about the transaction beyond what is provided by the card itself.
When a transaction is processed, the payment processor sends the MAC along with the card details to the issuing bank. The bank then analyzes the MAC to determine if the transaction is legitimate or suspicious. If the MAC is suspicious, the bank may flag the transaction for review or decline it altogether.
Codes Work
So what type of information does the MAC provide? Some of the most common details include the location of the transaction, the type of card being used, the transaction amount, and the date and time of the transaction. This additional data allows the issuing bank to better assess the transaction and determine if it aligns with the cardholder's typical spending patterns.
It's worth noting that not all MACs are created equal. Some codes provide more detailed information than others.  And the level of detail can vary depending on the payment processor and the merchant's industry. For example, merchants in high-risk industries like online gambling may be required to provide more extensive MAC data to mitigate the risk of fraudulent transactions.
Overall, the effectiveness of MACs depends on a variety of factors.  Including the accuracy and relevance of the data provided and the sophistication of the bank's fraud detection system. However, as part of a comprehensive fraud prevention strategy.  Implementing MACs can be a valuable tool for reducing the risk of chargebacks and protecting your business's bottom line.
Different Types of Merchant Advice Codes
Merchant Advice Codes (MACs) are a crucial part of fraud prevention measures for businesses. There are various types of MACs that can be used to help mitigate fraudulent transactions.

Email us anytime!
Email customer service 24/7

Call us anytime!
Reach customer care 24/7 at +1 (888) 901-8653
1. Authorization MACs:
Authorization MACs are used by businesses to obtain approval for a transaction. These codes help in verifying the cardholder's identity and if the transaction is genuine.
2. Decline MACs:
Decline MACs are codes that are sent when a transaction is declined. They can help the merchant understand the reason behind the decline.  Such as insufficient funds or incorrect card information.
3. Fraud Management MACs:
Fraud management MACs are used to identify potential fraud and alert the merchant to take necessary measures. These codes can help in preventing future fraudulent transactions and improve security measures.
4. Settlement MACs:
Settlement MACs are codes used to reconcile transactions between the merchant and the acquiring bank. They help in ensuring that transactions are correctly settled and are free from fraudulent activity.
5. Refund MACs:
Refund MACs are used when a merchant initiates a refund. These codes ensure that the refund is processed correctly and that the funds are returned to the cardholder's account.
In summary, implementing Merchant Advice Codes in your business can provide numerous benefits in preventing fraudulent transactions. Understanding the different types of MACs and their functions can help you. Choose the right codes to use and improve the security measures of your business.