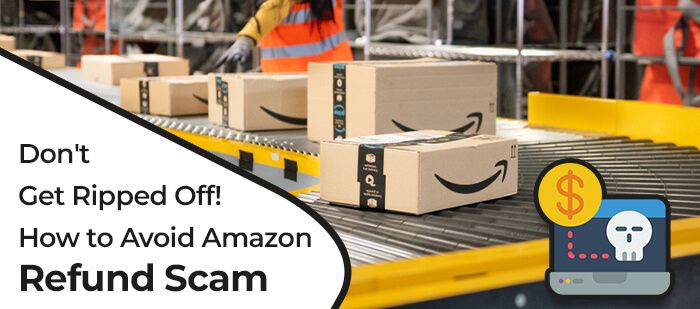 Are you a regular Amazon shopper? If so, then you need to be aware of the growing problem of Amazon Refund Scams. These scams are becoming more and more frequent, and they can cause you to lose a lot of money if you're not careful. In this blog post, we'll discuss how to recognize and avoid Amazon Refund Scams so that you can protect your hard-earned money and increase your Amazon revenue.
The Problem with Amazon Refund Scams
Online shopping has revolutionized the way we purchase goods and services. Unfortunately, it has also opened up a whole new world of scams, particularly in the area of Amazon refunds. It is estimated that thousands of consumers are scammed each year by fraudsters. Who attempts to take advantage of the Amazon return policy?
Scammers use various techniques to defraud unsuspecting victims. Some will offer a "refund" after they have received the item and the victim has paid for it, but the refund never actually materializes. Others will ask for personal information like bank account details or Social Security numbers in order to "process" the refund. In some cases, scammers will even set up fake Amazon return pages where they offer to process the refund with a fee.
In most cases. These scammers are not actually associated with Amazon and can easily disappear without a trace after taking advantage of unsuspecting shoppers. As such, it's important for customers to be aware of how to protect themselves when returning items on Amazon and how to recognize the signs of a scam.
Some Related Blogs
How to Avoid Getting Scammed
The best way to avoid getting scammed when it comes to Amazon refunds is to be proactive and protect yourself. Here are some tips to help you stay safe and avoid scams:
Check the seller's reviews: Before making any purchase, make sure to read through the seller's feedback and reviews. This will give you an idea of their customer service record, which can provide insight into whether or not they might be trying to scam you.
Don't pay upfront for a refund: If a seller asks you to pay money in advance for a refund, it's likely a scam. Don't give them any payment information or money until the refund has been issued.
Beware of offers that seem too good to be true: If a seller is offering a large discount or an unbelievable deal, it's probably a scam. The same goes for offers of free items or discounts if you buy something right away.
Be wary of unsolicited emails: Unsolicited emails from unknown senders should be treated with suspicion. These often contain links to websites that could be fraudulent. Never click on a link in an email unless you are certain it is genuine.
Keep your passwords secure: Create strong, unique passwords and never share them with anyone. Also, use two-factor authentication wherever possible. This adds an extra layer of security and helps protect your personal information.
By following these steps, you can reduce the risk of becoming a victim of an Amazon refund scam.
What to Do If You Are a Victim of a Scam
If you are a victim of an Amazon refund scam, it's important to take action quickly in order to protect your finances. Here are some steps to take if you believe you have been scammed:
Contact Amazon: The first thing you should do is contact Amazon as soon as possible. Provide them with any details you may have such as the email address or phone number of the person who attempted to scam you.
Report the Scam: Once you have contacted Amazon, you should also report the scam to the proper authorities such as the Federal Trade Commission or the Internet Crime Complaint Center.
Monitor Your Accounts: Keep a close eye on your accounts and monitor for any suspicious activity.
Change Your Password: If you think your account was compromised. Change your Amazon password immediately and consider changing other passwords for good measure.
Take Legal Action: If the scammer has stolen money from you, it may be possible to take legal action against them. However, it is important to consult an attorney before proceeding with any legal action.
By following these steps. You can help protect yourself from being taken advantage of by Amazon refund scams. Always remember to stay vigilant and to keep an eye out for any suspicious activity when shopping on Amazon.
How to Get Your Money Back
If you have been a victim of an Amazon refund scam, it is important to take steps to get your money back as quickly as possible
The first step is to contact Amazon directly to report the incident and ask for a refund. Amazon will typically review your case and provide a full or partial refund depending on the situation. You may also be eligible for additional reimbursement. If you can prove that you were scammed.
In addition to contacting Amazon directly, you can also file a dispute with your credit card company or bank if you used one of those payment methods for the purchase. Be sure to provide documentation and any other evidence that supports your case in order to improve your chances of getting your money back.

Email us anytime!
Email customer service 24/7

Call us anytime!
Reach customer care 24/7 at +1 (888) 901-8653
If you paid with PayPal, you may be able to file a "chargeback" request with them. This is essentially an automated dispute process where PayPal may provide you with a full or partial refund after reviewing the case.
Finally, if none of these options are available to you, consider filing a complaint with the Federal Trade Commission (FTC). The FTC helps protect consumers from fraudulent activities like Amazon refund scams. They may be able to help you recover some of your money, although it could take some time to resolve the issue.
In summary, if you are a victim of an Amazon refund scam, contact Amazon directly and see if you are eligible for a refund. If not, try filing a dispute with your credit card company or bank, filing a chargeback request with PayPal, or filing a complaint with the FTC. With any luck, you should be able to get some or all of your money back!
How to Prevent Future Scams
There are a few key steps that you can take to ensure that you avoid any future scams when dealing with Amazon refunds.
Be vigilant about who you're buying from – Do your due diligence and research the seller before making a purchase. If something seems off, don't risk it. Check the feedback and reviews of the seller. And make sure that the refund policy is clearly stated on the product page.
Keep your information secure – Make sure to use a unique and secure password for all of your accounts associated with Amazon. Additionally, if you're using a credit card or bank account linked to your Amazon account, be sure to keep your details safe and private.
Stay up-to-date with Amazon updates – Amazon frequently updates its policies and procedures in order to better protect its customers. By staying informed, you can stay ahead of any potential scams. Make sure to check the Amazon news regularly so you can be aware of any changes.
Utilize Amazon's customer service options – Amazon offers a wide range of customer service options to help address any issues that may arise when dealing with refunds. These include a live chat feature, phone support, and email support. If you have any questions or concerns, feel free to reach out to one of these services for assistance.
By following these tips. You can help protect yourself from getting scammed and ensure that you receive. All of your rightful refunds from Amazon.