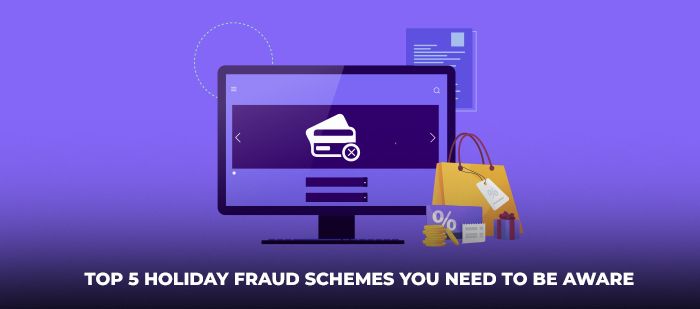 Holiday fraud can be disguised with a variety of disguises. It can range from legitimate customers filing requests for chargebacks due to legitimate fraud to experienced scammers who exploit chargebacks The holiday season is a time when fraud is difficult to identify and sometimes difficult to manage. Unusual patterns triggered by the increase in online buying during the holidays can cause the fraud detection software to be unable to detect the most fraudulent cases. To gain a better understanding of the complexity of dealing with holiday fraud, let's take a look at the most popular scams during the holiday season.
1.  CNP (CARD NOT PRESENT FRAUD) HOLIDAY FRAUD
For online merchants, each transaction is a CNP transaction. This makes it challenging to confirm the true person who owns the credit card if proper security measures for online payments aren't put in place. In addition due to hacking forums that leak credit card details, It's now becoming quite easy for fraudsters with no experience to take part in holiday fraud schemes. One instance of leak of credit card numbers disclosed 1.2 million stolen credit card numbers for no cost.
To stop CNP fraud throughout the year ensure that you implement an online payment security system that is automated to protect against fraud. Joining the 3D Secure scheme enables you to transfer your liability to the institution that issued the card in the event of proven fraud. Furthermore, the advanced methods of authentication and the SCA requirement make it difficult for fraudsters to complete any purchase with only stolen credit card data that is available on the dark internet.
Check out more blogs here
2. FRIENDLY FRAUD
Friendly fraud is a term used to describe two distinct situations. The first, which is an extremely frequent one in the Christmas season, involves a seasoned fraudster requesting a chargeback based on the pretext that they never placed an order or that the order was never delivered. Naturally, the criminal's intention is to obtain their cash back and keep the items they have received.
The other type of fraud involving friends is due to poor communication typically between family members and cardholders with the same card. After reviewing their bank statements one cardholder may make a chargeback on an order that they do not recognize while another family member waits for the parcel to arrive.
Although not every friendly fraud can be aimed at damaging your business, expenses associated with shipping, packaging, and the incoming chargebacks can impact profits. Be sure that your company appears on your credit statement for your credit card. Be clear on the refund policy and ensure they are readily available on your website. The final piece of advice is to provide excellent customer service, knowledgeable about this kind of fraud since it can be resolved with transparent communication.
3. BNPL (BUY-NOW-PAY-LATER) HOLIDAY FRAUD
The Buy-Now Pay-Later option lets customers buy products that aren't within the budget by delaying their payment up to the next month or the payment term. It's a great option for consumers to control their spending during the holiday season. But, since the BNPL option requires users to sign up to an outside BNPL provider, scammers have been using account takeover scams in order to access BNPL accounts.
The most typical indicators to be aware of are multiple transactions occurring within a surprisingly short amount of time, log-in from a different device/location, and a change in the shipping address. This being said, be sure you provide context to each of the indicators mentioned above. False negatives can harm your business as a majority of customers say that they will never make the purchase after a vendor refused to accept their credit card.
4. CHARGEBACK FRAUD
Chargeback fraud is a malicious form of friendly fraud – the kind where the client retains the goods received and demands a reimbursement. The costs of chargeback fraud do not just include theft-related costs for items and the possibility of reimbursement. It also includes the cost of shipping and packaging along with charges for contesting the chargeback. To make matters more complicated when credit card processors determine they believe you as a retailer have to deal with too many chargebacks they're able to increase the transaction fee.
The way to avoid chargeback fraud is to invest in a reliable chargeback system that provides you with automatic fraud protection and the guarantee of liability shift in the event of the chargeback.
5. ACCOUNT TAKEOVER FRAUD (ATO) DURING THE HOLIDAY SEASON
Not to be forgotten, the fraudulent takeover of accounts. As an online retailer, you're aware that establishing accounts for customers to use your online store has many advantages. One of these is an effective marketing tool that reminds customers of your company. But, criminals view those accounts as a pool of credit card details that can be abused.

Email us anytime!
Email customer service 24/7

Call us anytime!
Reach customer care 24/7 at 855-465-4723
Similar to credit card number leaks, we also have leaks of user credentials that can be found on hacking sites as well as on the internet known as dark. With an extensive list of passwords and usernames that have been stolen hackers can create automated scripts and then wait for the right click to the correct online service. When an account is accessed, what typically follows is the alteration of personal information on the account which includes email and address. One thing that will be certain to remain the same is the credit card details. The remainder of their procedure is clear – making illegal purchases with the victim's credit card or even stealing credit card details to commit more fraud.
Some of the most effective practices to combat fraud in the account takeover process are as follows:
Be cautious of accounts that are logged into from a different location, or using another device.
Begin by limiting the number of times you can log in, and close the account when the number exceeds.
Instruct your staff on frauds like phishing and other techniques hackers employ to steal information from accounts.
Block and detect IP addresses that are connected to automated bots for hacking.
Implement a policy for changing passwords in place.
Make sure you invest in a fraud prevention solution that protects your business and the accounts of your customers.
Final Words About  Chargebacks
Chargebacks can be a huge issue for both big and small, which is why it's important to devote time and money to prevent chargebacks with credit cards and enhance your responses to the issue.  Contact Chargeback Expertz our team can assist you in implementing your fraud prevention strategy.