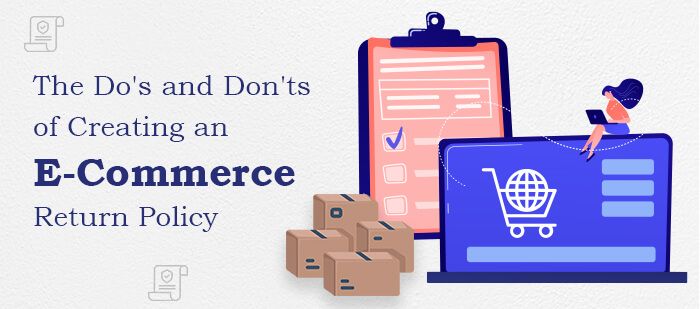 When it comes to creating an eCommerce Return Policy, there are several do's and don'ts you should be aware of. It is important to streamline your return rules to better serve your customers and prevent chargebacks. By understanding the best practices for developing an effective eCommerce Return Policy, you can create a policy that works for both you and your customers. In this blog post, we will discuss the do's and don'ts of creating an eCommerce Return Policy. 
DO understand the customer's needs 
When it comes to creating an eCommerce return policy, it is important to take into consideration the needs of your customers. Understanding what they want and how they would like to receive their returns will help you create a policy that works for everyone. Consider the following when designing your return policy: 
Length of return window: The longer the return window, the more time a customer has to change their mind about their purchase. Depending on your business model and the type of product you are selling, the return window should be reasonable enough to accommodate customers' needs but still help you reduce the risk of fraud.
Types of returns accepted: Will you accept items that have been used or opened? How about items returned after the return window has closed? Knowing what types of returns you can and cannot accept can help you avoid chargebacks and customer dissatisfaction.
Processing time: Customers may expect their returns to be processed quickly. Make sure your processing time is fast enough to meet customer expectations and reduce any potential frustration.
By understanding what your customers want and need in terms of a return policy, you will be able to create a policy that works for everyone. 
DON'T make the return policy too complicated 
When you are creating a return policy, it is important to keep in mind that you want to make the process as easy and straightforward as possible for your customers. A complicated return policy may deter potential customers from making a purchase or lead to customers becoming frustrated and giving up on their return altogether.
To ensure your return policy isn't too complex, start by breaking down the different components. This includes making sure there is clear language about the time frame for returns, what types of items are eligible for returns, and whether customers are responsible for paying for return shipping. Once these main components have been addressed, you can then consider additional stipulations like restocking fees or exchanges.
It is also important to think about how the return policy will be communicated to customers. Having a well-written, easy to find return policy on your website can make the entire process more streamlined and allow customers to quickly identify the steps they need to take in order to initiate a return. Additionally, consider adding prompts or helpful graphics throughout the checkout process to remind customers of the return policy as they complete their purchases.
By keeping the return policy simple and straightforward, you can help ensure customers understand what they need to do if they want to make a return and streamline the entire process. This can ultimately lead to fewer chargebacks and better customer service overall.
Our Latest Blogs
DO offer different return options 
When creating a return policy, one of the best ways to ensure customer satisfaction is to offer different return options. This can include returning the item for a full refund, store credit, or exchange. It is important to clearly state the different return options available, as well as the associated timeline and processes. 
For instance, if customers are allowed to return an item for store credit, specify the timeframe for them to do so and note any limitations. Additionally, you should consider offering an extended return window around key holidays or special occasions like Black Friday. This will show customers that you value their loyalty and appreciate their business.
Moreover, offering returns through multiple methods can increase customer satisfaction and lead to more sales. You should consider allowing customers to return items in-store, by mail, or through other channels such as third-party retailers. Each method should have its own set of rules and conditions to ensure a smooth process for customers.
Finally, be sure to make it easy for customers to find your return policy by including it in all your product descriptions or providing easy access on your website. This will help them quickly understand the return options they have available and make an informed decision.
By offering different return options and making them easily accessible to customers, you will create a more streamlined and customer-friendly experience. This will help reduce chargebacks and improve customer loyalty, leading to increased sales and revenue. 
DON'T forget to test the return policy 
When you have put together your return policy, it's essential to test it out to make sure that it is effective and working correctly. Start by having your team test the policy in a simulated environment. This will help identify any issues or problems that could arise before going live with your policy. 
Be sure to consider all scenarios when testing your return policy. This includes but is not limited to different purchase types, delivery methods, and customer locations. Testing is essential because it can help you identify any potential loopholes or discrepancies that may be present in your policy.
Finally, make sure you document all tests you perform on the return policy. This will help you keep track of changes and updates over time and allow you to quickly make adjustments as needed. Doing this will ensure that your return policy is always up-to-date and consistent with the needs of your customers. 
DO monitor chargebacks 
Chargebacks are an inevitable part of any eCommerce business, and one of the most effective ways to combat them is to monitor them closely. Doing so can help you identify patterns and take action to prevent further chargebacks.
If a customer has experienced a problem with their purchase, it's important that you act quickly to address it. By monitoring chargebacks, you can spot any issues before they become larger ones. You can also track customer behavior to understand why certain chargebacks are occurring, allowing you to adjust your policies as needed.

Email us anytime!
Email customer service 24/7

Call us anytime!
Reach customer care 24/7 at +1 (888) 901-8653
When it comes to keeping an eye on chargebacks, there are a few steps you should take. First, set up notifications when a chargeback is filed. This will help you identify and address any issues as soon as possible. You should also look into third-party dispute resolution services to help manage any disputes between customers and merchants. These services provide real-time alerts, dispute management tools, and analytics to help you better understand and address chargeback-related issues.
Finally, remember to review your return policy regularly. Make sure that it is clear, concise, and easy to understand. Ensure that your customers know what their rights and options are in the case of a return or refund request. By being proactive and taking the necessary steps to prevent chargebacks, you can help protect your business and ensure that your customers have a positive experience. 
DON'T ignore customer feedback 
It's important to pay attention to customer feedback when it comes to your return policy. If customers are voicing their concerns or complaints about the policy, you should take these into consideration. Ignoring customer feedback can lead to a decrease in customer satisfaction, which can result in an increase in chargebacks.
To ensure your return policy is meeting customer needs, listen to their feedback and make adjustments accordingly. Ask for reviews and survey customers on what they like and don't like about your return policy. That way, you can make changes to better serve them and prevent chargebacks. Also, be sure to communicate any changes you make to the policy to customers so they know what to expect. This will help ensure they have a smooth experience when returning products.