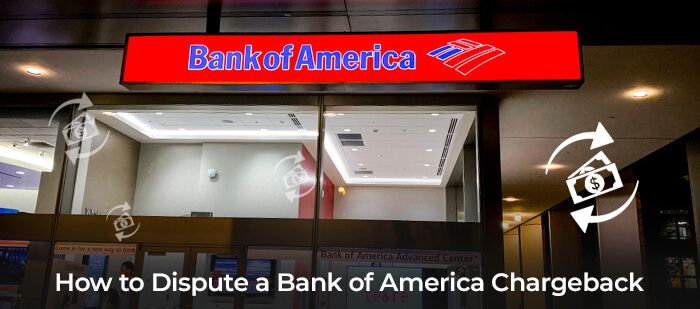 Do you need to dispute a Bank of America chargeback? If so, you'll want to make sure that you have all the necessary information to make your Bank of America dispute process go as smoothly as possible. In this blog post, we will discuss the key steps you need to take to effectively dispute a Bank of America chargeback, giving both consumers and merchants the crucial information they need. 
The basics of chargebacks 
Chargebacks are a type of consumer protection designed to help individuals recoup lost or stolen money from a purchase. They allow customers to challenge fraudulent transactions on their credit card, debit card, or other financial accounts. This means that if a customer believes that they have been the victim of fraud, they can contact their bank or credit card company and ask for a chargeback.
Chargebacks can also be used when goods or services have not been delivered or are unsatisfactory. This process is governed by the bank or credit card company's chargeback policies, which stipulate the conditions under which a chargeback can be requested and how it should be handled. 
It is important to note that chargebacks can only be requested within a certain time period. Depending on the bank or Credit Card Company, this window of opportunity can be as short as 60 days or as long as 120 days from the original purchase date.

Email us anytime!
Email customer service 24/7

Call us anytime!
Reach customer care 24/7 at +1 (888) 901-8653
The process of requesting a chargeback begins with the customer contacting their bank or credit card company and providing details about the transaction in question. The bank or credit card company will then review the customer's information and determine whether a chargeback is warranted. If approved, the bank or credit card company will issue a chargeback against the merchant who issued the payment.
Chargebacks are often used as a last resort when all other efforts to resolve a dispute have failed. It is important to understand the rules and regulations surrounding chargebacks so that you can make an informed decision if you ever need to request one. 
How to dispute a Bank of America chargeback 
If you have a dispute with a Bank of America (BoA) chargeback, it's important to take the necessary steps to dispute the charge. By understanding the dispute process, you can take control of your finances and get the most out of the process. 
The first step in disputing a BoA chargeback is to contact BoA customer service. You can reach them via phone, email, or chat. It's important to explain the details of your dispute as clearly as possible so that they can make an informed decision.
When filing your dispute, you'll be asked to provide supporting documentation such as a receipt or other proof of purchase. This evidence can help BoA better understand your situation and assess the validity of your claim.
Once your dispute has been submitted, BoA will review your case and respond with their findings. In most cases, this response will include an explanation of their decision and what you need to do next. If BoA finds in favor of you, the charge will be reversed and you may receive a refund. If not, you may still be able to pursue the dispute by appealing their decision or by filing a complaint with the Consumer Financial Protection Bureau (CFPB).
It's important to note that disputing a chargeback does not guarantee a successful outcome. The best way to avoid disputes is to be sure to pay for all purchases on time and be aware of any billing discrepancies. Keeping up with your account statements and being mindful of what is being charged to your card can help you catch any errors before they become a problem. 
Our Latest Blogs
 What to do if your chargeback is denied
If your chargeback is denied by Bank of America, it's important to understand that you still have options. The first step is to contact the merchant and attempt to resolve the issue with them directly. If the merchant refuses to work with you or cannot provide a satisfactory resolution, you can still file an appeal with the bank.
When filing an appeal, make sure you have all of the necessary evidence to prove your case. This may include copies of any relevant paperwork, receipts, and other documents that could support your claim. Additionally, if the dispute involves a large amount of money, consider enlisting the help of a lawyer who can advise you on the process and represent you in court if necessary. 
When filing an appeal, there are certain criteria that must be met in order for it to be accepted. Your appeal must contain information related to the chargeback, such as the reason for disputing the charge and what steps you've taken so far to try and resolve it. Additionally, any supporting evidence or documentation must be included with your appeal in order for it to be considered.
Finally, it's important to understand that even if your chargeback is denied by Bank of America, you still have rights as a consumer. Under federal law, consumers have a right to dispute charges and have the right to seek legal action if their appeal is not successful.
By understanding the process of filing a chargeback with Bank of America and familiarizing yourself with the steps to take if your chargeback is denied, you'll be better equipped to protect yourself and your finances from fraudulent charges.
Tips for preventing chargebacks 
Understand the chargeback process: Knowing the chargeback process can help you understand the actions you should take to avoid a dispute. Make sure you're familiar with the issuing bank's policies and regulations, and know the timeline for filing and responding to disputes.
Communicate with customers: Communication is key when it comes to chargebacks. Make sure you're communicating clearly and promptly with customers to ensure they are satisfied with their purchase and that any issues are resolved quickly.
Monitor your transactions: Keep an eye on your transactions and investigate any unusual activity. Be aware of any potential fraud or suspicious activity and take action immediately.
Provide adequate product information: Ensure that customers have all of the necessary information about their purchase before completing the transaction. This includes product information, return/refund policies, and delivery details.
Document everything: Keep detailed records of all your transactions, including invoices, receipts, shipping documents, and any other pertinent documents. This will help you if there is ever a dispute and you need to provide evidence to support your side of the story.
Use fraud prevention tools: Utilize fraud prevention tools like address verification, fraud detection software, and payment authorization systems to reduce the risk of chargebacks caused by fraudulent activity.
Respond quickly to disputes: When a dispute is filed, respond quickly and accurately with all the information requested. This will help ensure that you have the best chance of winning the dispute in your favor.